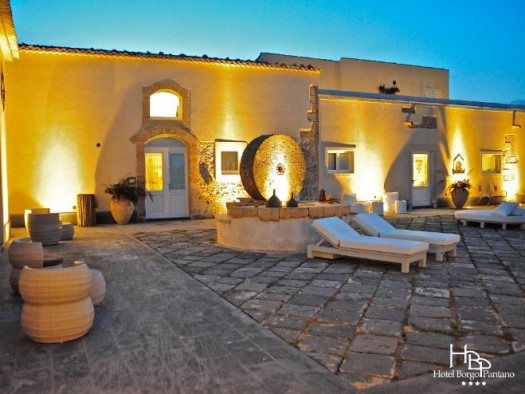 Notice: Trying to access array offset on value of type bool in /customers/6/b/4/viaanima.se/httpd.www/wp-content/plugins/advanced-custom-fields-pro-master/includes/api/api-template.php on line 502
Vi åker till Sicilien och möts i en citronlund utanför Syrakusa!
Sicilien omfamnar oss med värme och mångkultur. Här har sjöfararna landat och styrt och spridit sin kultur. Greker, romare, spanjorer, araber, normander m.fl. har varit här och satt sin prägel på ön under olika historiska epoker. Syrakusa grundades på 700-talet f.kr av grekiska kolonisatörer. På det arkeologiska området i Syrakusa hittar du en vacker Grekisk amfiteater bredvid en något mindre välbevarad romersk amfiteater. Det är detta som är Sicilien, en blandning av många kulturer.
Strax utanför Syrakusa har vi hittat en liten pärla, ett fyrstjärnigt hotell ute på landsbygden bland olivlundar, citronlundar och mandelträd. Gästvänligheten är påtaglig, samtliga i personalen gör allt för att vi skall trivas och ha det bra. Rummen är snyggt designade där det traditionella möter det moderna. Några är ultramoderna medan andra har en mer traditionell touch. Frukostbuffén är dignande och bjuder på många typiskt sicilianska smaker, så som granita på mandel eller pistage, briocher och cannoli mm.
Ett trivsamt ställe att konferera på, en vacker anläggning med härliga omgivningar och familjärt bemötande. Då hotellet inte är ett typiskt konferenshotell, passar det bäst för grupper upp till 30 pers.
Hotellet ligger 6 km från havet och vackra stränder. Utflyktsmöjligheterna är många! Ta en båttur runt Syrakusas gamla stadsdel Ortigia och upplev dess skönhet från vattnet, samtidigt som det finns möjlighet att bada, snorkla och lägga till intill små grottor. Hoppa av båten och strosa runt i Ortigia, i mysiga gränder och upplev de vackra torgen, byggnaderna och de gästvänliga sicilianarna.
En guidad tur hos en vinproducent med efterföljande vinprovning och en picknick under mandelträden är ett annat trevligt förslag på hur man kan fördriva sin tid på denna vackra ö, där druvan Nero d'Avola mognar på vinstockarna.
En riklig traditionell italiensk middag ute på en lantgård är något man bara måste få vara med om i sitt liv. Råvarorna från trakten lagas till med stor kärlek och serveras med stolthet, ackompanjerat av traktens goda viner.
Välkomna till sköna Sicilien!
Priset inkluderar:
Flygresa t/r till Catania

3 nätter på Borgho Pantano

Transfer flygplats-hotell

2 luncher inklusive bordsvin

2 middagar inklusive bordsvin

Vinprovning på La Planeta

Picknick under mandelträden
Prisindikation: 10.495 kr

Deprecated: Function get_magic_quotes_gpc() is deprecated in /customers/6/b/4/viaanima.se/httpd.www/wp-includes/formatting.php on line 2443